Specialty of KVK
Application of Zero tillage technology sowing for Resource Conservation
Sowing of seeds without tillage in the field is basically known as Zero Tillage Technology. Application of this technology not only reduces the cost of field preparation but also it reduces the quantity of irrigation water, the number of weed population along with environment friendly method of sowing due to less burning of fuel. As far as critical inputs like seeds and fertilizers are concerned, this method applies these inputs at proper depth and hence beneficial for better germination. This technology also supports timely sowing of Rabi crops particularly wheat specifically in late sown conditions, although this technology is also beneficial for sowing of timely sown wheat. Work on implementation of practicing Zero Tillage Technology in wheat sowing has been implemented by KVK, Saharsa since 2009 through front line demonstration programme. By introducing ZTT in wheat crop there was a saving of 45 litres per hectare diesel had been observed which resulted in reduction of cost of sowing Rs. 3500 per hectare. An average increase in the yield by 18 per cent had been observed during demonstration. BC ratio with introduction of this technology in wheat had been found as 2.57 Due to this fact nearly 10 per cent annual horizontal spread has been observed for practicing ZTT in wheat sowing within the district.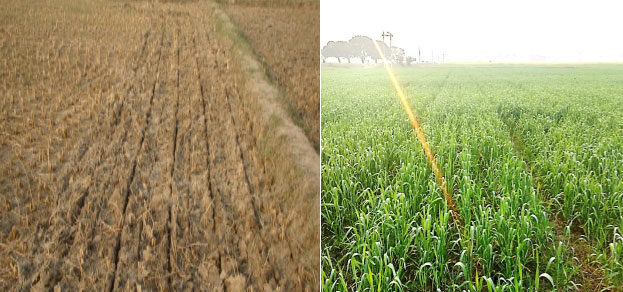 Application of SRI Technique in rice cultivation for yield enhancement
Transplanting nearly 25 to 30 days old seedling with improper crop geometry reduces the Rice productivity in the district. System of root intensification by transplanting 10 to 14 days old seedlings specially prepared on raised bed resulted into 33 per cent increase in yield and 25 per cent saving in irrigation water thus 21 per cent increase in BC ratio.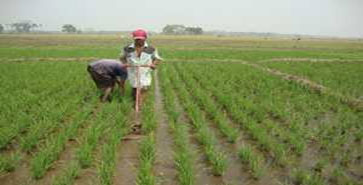 "SRI" formerly known as "System of Rice Intensification " and presently as "System of Root Intensification" is a new methodology of transplanting 10 to 15 days old(2-3 leaf stage) paddy seedlings with crop geometry of 25 X 25 cm in nearly wet-dry field condition for proper root aeration. The process of weeding is done with a special weeder named "Cono-weeder" first after 15 days of transplanting and secondly after 30 to 35 days after transplanting. Specific stress has been given among farmers of KVK, Saharsa since 2007 first by on farm trials and after that through front line demonstration for testing, dissemination and adoption of this technology at farmers' fields.
Rejuvenation of age old mango plants for enhancing productivity
30 per cent of mango orchards have been found less productive due to 40 to 45 years old. The unwanted branches of these trees may be the major causes of reduction in productivity. Application of removal of these branches with proper technique and application of fungicide and recommended doses of fertilizer are found suitable option for solving this problem as it is observed that after 2 years of rejuvenation process 64 kg of fruits per plant has been picked.
Establishment of high density orchard of mango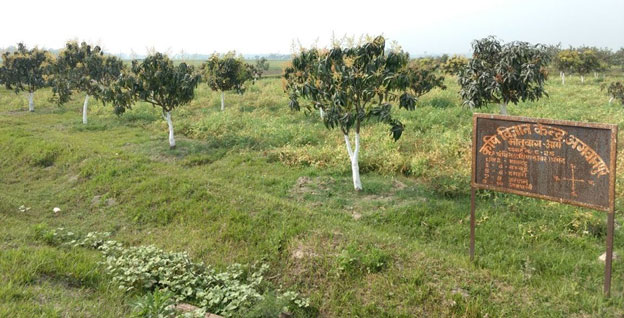 Canopy management in larger trees planted with plant geometry10 X 10 metre is a tough task resulted in less productivity particularly in mango orchard in the district. For enhancing productivity of mango orchard dwarf varieties have been established with plant geometry 2.5 X 2.5 metre for proper management of Canopy and thus by increased plant population 25 per cent increase in BC ratio has been observed in compare to traditional orchard.
Soil health and fertility management through green manuring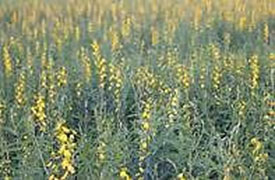 By continues application of inorganic/chemical fertilizers particularly unbalanced doses of urea during the cultivation of various crops, it has been seen the fertility of soil is decreasing. In such circumstances, the option to support the soil health through green manuring of fields is the best option as possibility of organic compost/vermicompost in huge quantity may not be fulfilled due to cattle population in the area. It is observed that green manuring through leguminous crops like Sisbanea, Green gram, Cow Pea in salty and water logging areas proves to be the best source of green manuring. It has been observed that by overturning of 50 days old Sisbanea plants increases 90 kg available nitrogen per hectare.
Application of Trichoderma Viridae for control of soil borne diseases in vegetables
Vegetables seedling at transplanting stage may be attacked by many soil borne fungi viz. Fusarium, Rhizoctonia, sclerotiuns that damage up to 40-70 % through wilting & fruit rot diseases. A combination of seed treatment with Trichoderma viride @ 5g/kg of seed, soil application of 1kg Trichoderma viride per 10 quintal of vermin compost per hectare and seedling treatment with Trichoderma viride @ 10g/ litre of water have been observed the best option for controlling these diseases.
Application of Blue Green Algae in rice cultivation
Application of higher/ unbalanced doses of urea by farmers in area attracts the insect population causes reduction in the productivity of rice as well as affects the soil fertility. Application of blue green algae @ 10 kg per hectare reduces the demand of nitrogen by 25 Kilogram per hectare and beneficial for saving of available nitrogen in the soil.
Management of agricultural waste materials for preparation of vermi compost
Effect of chemical fertilizers on soil fertility is in question by several years. In the beginning of green revolution the productivity of crops has been increased due to application of these chemical fertilizers but during the decades after 1990 the bad effects of chemical fertilizers have been observed. In such circumstances preparation of vermi compost by special worm Eiseniafoetita and application of the compost has been observed. KVK Saharsa has introduced application of vermin compost in vegetable crops through On Farm Trials.